The Chamber Launches an Industry-wide-Government Collaboration
in Four Circular Economy Projects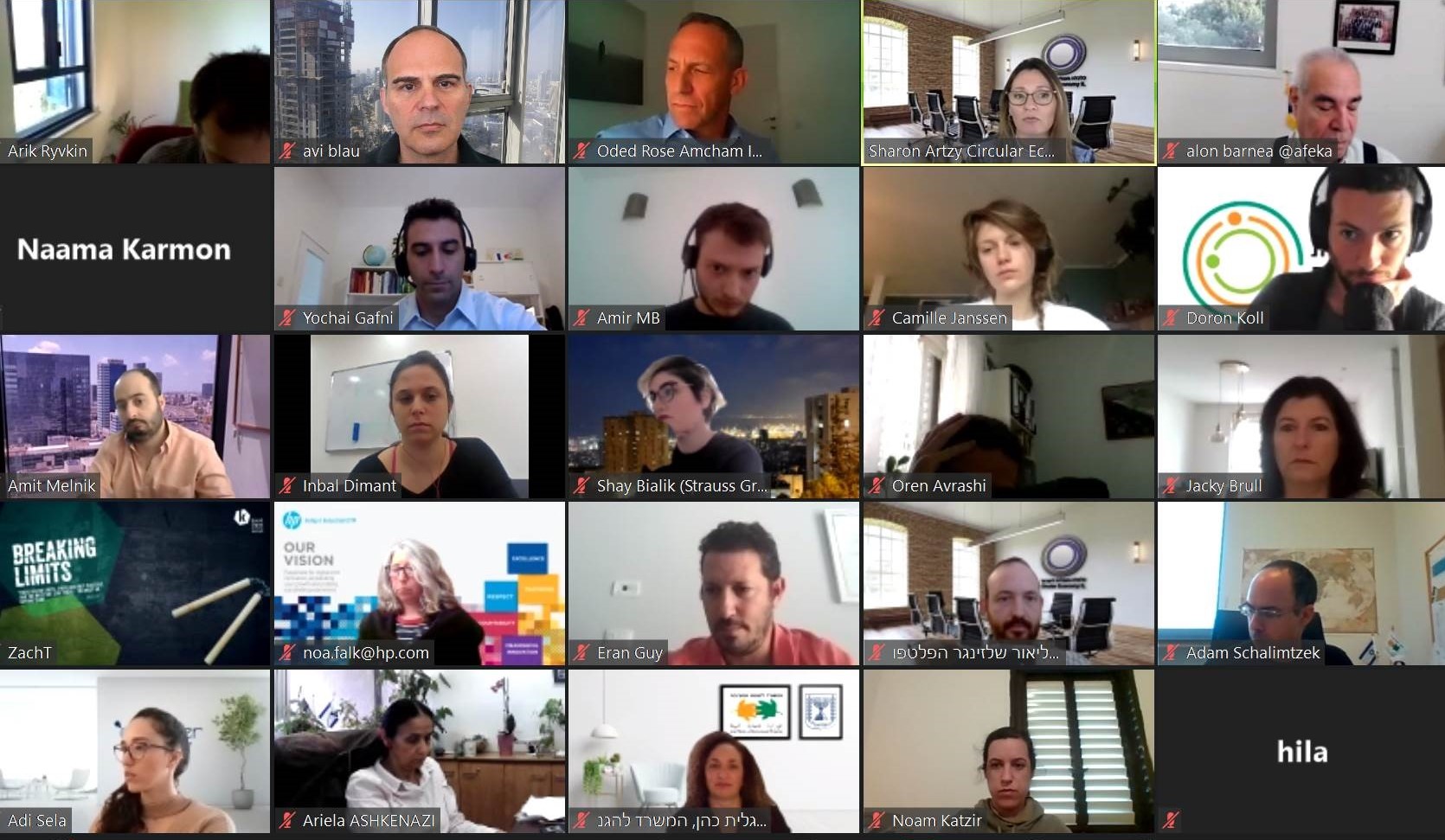 Over 50 participants from 29 companies and organizations, including representatives from Fortune 500 companies, other multinational companies, large enterprises, large retail, start-ups, academia and government entities participated in the kick-off meeting of the four projects of the Chamber Circular Economy (CE) Forum, that took place on February 7, 2021.

The four projects were developed by the members of the forum, during a series of meetings which took place over a six month period, beginning from the Forum's inception in June 2020. The Forum was established in collaboration with Dow (Dow Israel CEO acts as the Forum's Chairperson), Afeka College Innovation and Entrepreneurship Center, the Israeli Circular Economy Platform, the Ministry of Economy & Industry and the Ministry of Environmental Protection. The first three projects are directed by Avi Blau, Afeka College Innovation and Entrepreneurship Center and the 4th project is directed by Sharon Artzy, from FBC&CO,

1. Circular Economy Course - Development of abilities and ways of thinking in the field of engineering related to circular economy. The course will be delivered in collaboration with the Afeka College Innovation and Entrepreneurship Center. Employees of the AMCHAM Israel CE Forum members can participate in the course. Final projects will be carried out in collaboration between students and industry.

2. Open Innovation Challenge Related to Economics and Circular Engineering - The group will establish an open innovation framework. The Challenges will be developed jointly with forum members and will be presented to company employees, entrepreneurs and professionals from the general public, as well as students and graduates. Member companies will participate in developing and filtering the ideas and in the selection process of the winners. The objective is to identify at least one circular challenge.

3. Plastic Waste - Establishment of a roundtable working group to develop a pilot circular solution for plastics. The issue will be determined jointly by the group members who will be able to invite technology suppliers and professionals to present to the group. The objective is to create a pre-competitive framework for cooperation on plastics.

4. Regulation & Legislation - Forum members and government members will address the gaps in regulations and legislation as well as propose incentives related to CE practices in industry. The objective is to formulate a document addressing regulations and incentives around CE activities in Israel.

The CE Forum key members include Afeka College, Clariter, Dow, HP Indigo, IAI, ICL, Intel, Kornit, Netafim, PMI, P&G, Strauss, Teva, Toyota and Uniliver.
We encourage our members to join this initiative and play an active role towards improving our lives, our environment and the business world for this and future generations.